Work out where the membership is always free
Exercise alternatives to get you up and moving outside of the gym.
Amanda Williamson Published: 4/13/2018
Tired of the gym? We get the feeling.
Rather sit on the couch and watch TV? Don't worry, we've all been there. No judgment, really.
So, let us just get our obligatory health stuff over and done with quickly: regardless of your age, exercise provides benefits that are hard to ignore — better sleep, more energy, a stress reliever and even improved mental health.
Luckily, here in Jacksonville, we have a valuable resource to help keep us active: the outdoors! The city sits along the banks of the St. Johns River and has one of the largest urban park systems in the nation.
But, the best part is our experts at Baptist Health know a couple fun alternatives to the gym that get you out to those parks and help you hit your daily step goal.
Plogging: For when you want to exercise and help Mother Earth
First, the Swedes taught us the importance of living hyggely (think cozy) — and now they've invented plogging, a new Scandinavian fitness trend to solve a problem you might not have given much notice to.
A mash-up of the words "jogging" and the Swedish phrase "plocka upp," or "pick up," plogging is a pretty simple concept: while you exercise, collect any trash you see along the way.
Plogging got its start in Sweden in 2016 when groups formed around this eco-friendly activity. The story goes that the founder of plogging started to notice a lot more litter on his streets than in years past and decided to do something about it.
Now, the exercise is sweeping the streets (and the sidewalks and the coastlines and the parks) in countries across the world.
In theory, plogging increases calorie burn during your run because you'll also be squatting down to grab trash off the ground. And you can add on the fact that plogging requires you to hold the squat until all the litter is collected, benefiting the hamstrings, calves and quadriceps.
According to a Swedish fitness app, Lifesum, a half-hour of jogging combined with trash pickup will burn 288 calories compared to the 235 burned by jogging alone. A brisk walk, in contrast, burns between 90 and 150 calories.
But, the benefits to the environment are priceless. During a time when climate change continuously tops the headlines, this exercise helps your body and the planet.
Forest Bathing: Clothing optional? We think not.
As it turns out, this doesn't involve any bathing in the woods.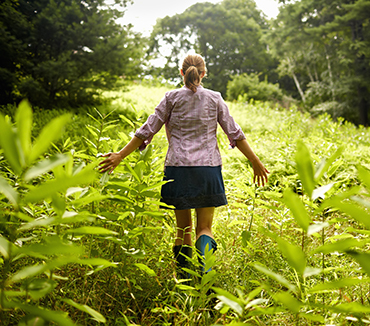 Forest bathing also doesn't require huge expanses to be effective, according to research conducted by an expert in forest medicine. Walks in the park, and aromatherapy focused on the use of cypress and other tree oils and even house plants provide some benefit.
Forest bathing reduces stress, anxiety, depression and anger. You can see an improvement in sleep, a boost of the immune system and better heart health, said Michael Mayotte, a senior wellness coach with the Baptist Y Healthy Living Centers.
The general goal of forest bathing is to slow down and allow the natural environment to envelop you, allowing your body to focus on the smells, textures and sights of nature. As you declutter your brain, take deep breaths, close your eyes, forest bathing begins to take on a meditation feel.
The practice began in the early 1990s after the Japanese Ministry of Agriculture, Forestry and Fisheries coined the term Shinrin-yoku — which translates roughly to forest bathing. Studies show that walking in a forest environment leads to more significant reductions in blood pressure and stress hormones than an equally strenuous walk through a city.
And for a little at-home cheat, diffusing essential tree oils at home can increase energy levels by more than 30 percent, Mayotte said. Aromatherapy enthusiasts know that tree oils, like pine and cypress, conjure a general state of well-being, capturing the essence of forest bathing within the home.
Ultimate Frisbee: A college staple and… interval training
Played either indoors or outside, Ultimate (known by many as ultimate Frisbee) combines the non-stop movement of soccer, rules of basketball and the overall objective of football, Mayotte said. Primary goal: get the Frisbee to the end zone and score a point for your team.
Since Ultimate was invented by high school students in the 1960s, it has grown to be considered an internationally competitive sport.
The American Council on Exercise says Ultimate burns an average of 477 calories per match and produces training benefits similar to those observed with moderate- to vigorous-intensity exercise, such as running five miles per hour.
The data from American Council on Exercise show cardiovascular benefits are comparable to traditional interval workouts, as those playing Ultimate Frisbee tend to regularly switch from full sprints to jogging.
"It is an excellent way to get the heart rate up, all while having fun," Mayotte said.
If you are concerned about your health and wellness, signed up for a free wellness coaching session at the Baptist Y Healthy Living Centers.
Close X