A layer of love
Local couple donates hundreds of cloth masks to children's ER.
Johnny Woodhouse Published: July 08, 2020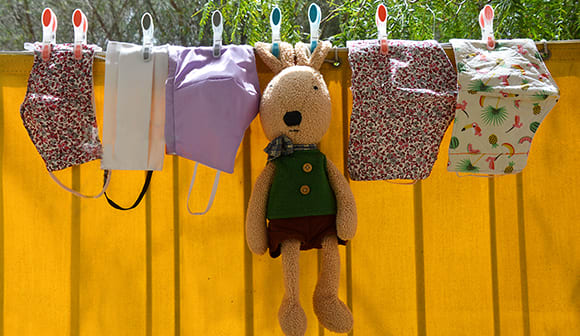 Mike Brynildsen comes from a long line of artists. His grandparents met in art school and his late mother was a lifelong painter and crafter.
"She was into everything from needlepoint and crochet to ceramics and watercolors," he said. "And she loved teaching art to children."
When Brynildsen's beloved mother, Genevieve "Jennie" Brynildsen, passed away five years ago, he inherited a large portion of her art supplies, including yards of cotton fabric she once used to make clothing.
Since mid-April, Mike and his wife, Tammy, have put that fabric to good use by making hundreds of home-sewn cloth face masks for patients, visitors and team members at the Wolfson Children's Hospital Emergency Center in downtown Jacksonville.
At last count, the couple has donated more than 1,500 of their creations to Wolfson Children's.
"Mike and Tammy have taken the time to sew and donate cloth masks for us since the start of the pandemic," said Kristin Ferguson, BSN, a charge nurse in the Children's Emergency & Pediatric Trauma Center. "We pass them out to anyone who visits the Children's Emergency Center. All our team members wear them, including the ER physicians."
Due to an outpouring of support from the Jacksonville community, Baptist Health has received more than 30,000 home-sewn cloths masks, according to Laura Collins, a development director for Wolfson Children's Hospital and Baptist Health Foundation.
Yards of fabric
Cloth masks provide more than just a layer of safety for Baptist Health caregivers.
"They also tell our team members that people in the community support them, and that really means a lot," added Cindy Reynolds, senior vice president and chief philanthropy officer for Baptist Health.
The Brynildsens, who both work full-time jobs, set aside five hours every night to sew cloth masks. At times, they had two sewing machines going.
"We had everything set up in our living room," said Mike Byrnildsen. "We made three sizes, small, medium and large. I cut out the patterns and Tammy did most of the sewing. My mom left us about 130 yards of fabric and we used just about all of it."
A mother of eight and a grandmother of 18, Jennie Brynildsen, who died in July 2015 at age 78, once owned a ceramics shop on Old Kings Road. She also exhibited her artwork at juried and non-juried shows in Jacksonville and St. Augustine and on Pinterest.
"I know she would have been very touched that her fabric went toward helping children and their families at Wolfson Children's Hospital," added Ferguson, a longtime family friend of the Brynildsens. "She had a genuine love for children in our community."
Added Mike Brynildsen: "It felt good to do something in memory of my mom. If she were alive today, she would be doing the same thing – sewing masks for sick children."
At Baptist Health, we want to help keep our community informed about COVID-19. For more information, visit baptistjax.com/covid19 or wolfsonchildrens.com/covid19. For questions about COVID-19 symptoms, call 904.302.5050.
Baptist Health physicians are here for you during this time and can diagnose, treat and prescribe medications virtually. Request an online doctor appointment here.
Close X